After eleven of drawing, animating, spriting, comic writing, a bit of game developing, 3d modeling, and sculpting. I've finally done it! I have reached my goal of one hundred fans!
If any body reads these things I mentioned previously that when I reach this goal I'll do something special. WALLAH!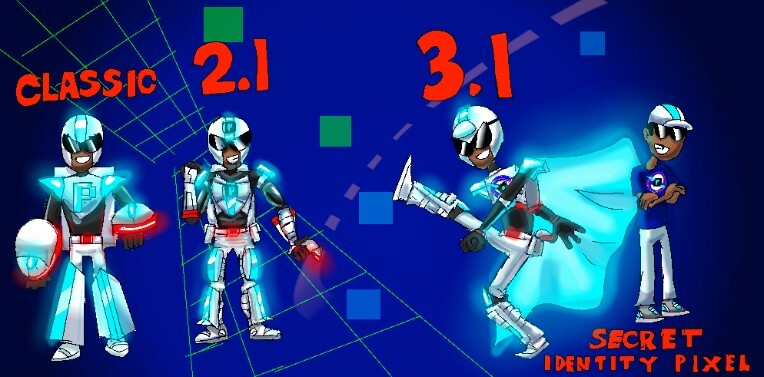 INTRODUCING EVERY VERSION OF MY AVATAR the Pixelizer!
Well it's not a complete face reveal, but at least you finally get to see all of the different Pixelizers. I've been kind of hiding them.
Starting with the (goofy looking) classic Pixelizer ,featuring two giant laser mice on my forearms, spandex, big Mega Man shin guards and a big o'l computer tower/jetpack on my back.
Up next is the overly detailed version 2.1, with the two mice turned into a laserpistols, with forearm armor plates that can shoot flash drive bombs, also with a computer tower/jetpack.
Next is the current and most appealing thepixelizer 3.1!
That suit has lighter armor than 2.1 and has a glowing cape (o.o), I ditched the jetpack and swapped it for jet shoes. And now my logo is on my breastplate.
Lastly is me in my street clothes aka my secret identity. Simply dubbed Pixel.
Fun fact I actually wear that entire getup in real life.
My first and second suit were used as my avatars many moons ago, the logo came much later and it too went through several different versions as well.
Thank you so much Newgrounds for looking at my cooky little creations for eleven years!
Thank you subscribers, friends, anonymous watchers, and peers. Without all of your support I would have never gotten this far.
You can definitely say I did pretty good job for a guy who posts family friendly art on here.
Well if you think I'm stopping here well you're wrong, I couldn't stop making art even if I tried. Now that the Pixel's out of the bag expect to see more of me.