I've just reached my 200th picture it's the latest issue#61in my improv comic series named Shuttle Switcher Dimensional Disaster! If you haven't heard of it it's a celebration of most of my of collection of comic book series, art, and characters that I've made since my childhood.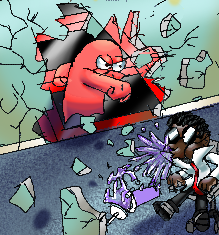 Here's a link to the first one
I also made a website for it on the comic fury platform which is way easier to look through than on here.
http://ssdimensionaldisaster.thecomicseries.com/
This one takes place in the world of one my most recent series Platformer Pests.
I also have a site for Platformer Pests that as well
https://platpests.thecomicseries.com/
Well that will be all happy Madness day Newgrounds!
And thanks for all the views and support!